COMMERCIAL FIRE EXTIGUISHER SERVICE IN MELBOURNE
Protecting your workspace, employees, and customers is of utmost importance. Therefore, you must have a proper fire-ready plan in place if an emergency were to occur. Help protect your organisation with a commercial fire extinguisher. At Australia Fire Protection, we offer a range of commercial fire extinguishers and services to ensure the ultimate protection from fire dangers. Whether you're after a portable fire extinguisher or one that's fixed to your office space, we've got your covered. When you need high-quality commercial fire extinguishers and exceptional services, choose our team at Australia Fire Protection for the job.
COMMERCIAL FIRE EXTINGUISHER INSPECTION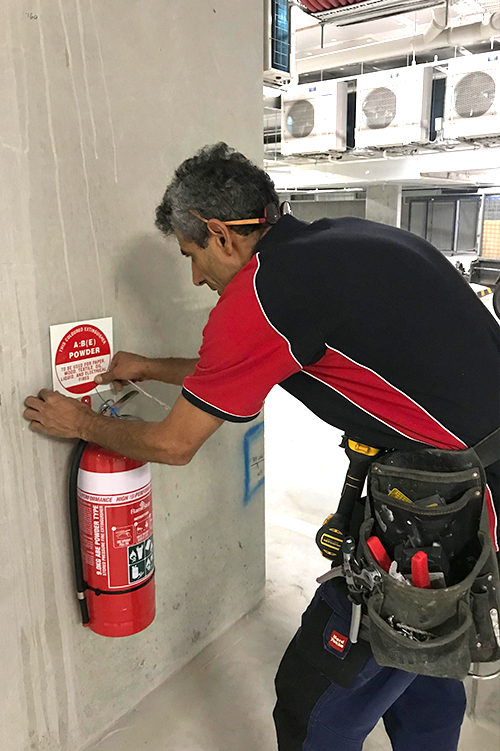 One of our most basic yet important services is fire extinguisher inspection. Whether it's for a commercial space or not, every fire extinguisher must be regularly inspected and tested to ensure optimal performance.
A commercial fire extinguisher inspection by Australia Fire Protection includes:
Checking for cracks or imperfections in the cylinder lining
Checking for corrosion which may mean you need a replacement cylinder
Assessing the functionality of your fire extinguisher
Ensuring a safe working environment for your employees
We check for a range of things before issuing fire extinguisher service tags, including accessibility, external damage, outlet hose assembly, pressure indicator, contents, signage, discharge nozzle, weight, and much more
COMMERCIAL FIRE EXTINGUISHER TEST AND TAGGING
As part of our inspection services, routine testing is regularly carried out to ensure your commercial fire extinguisher works correctly. On average, we recommend getting your commercial fire extinguisher tested every six months as this will guarantee optimal safety against any emergencies. Our testing service will include the following:
Inspections are done at regular intervals
Includes a pressure test and refill
After 1, 3, and 5 years of usage, other servicing requirements will take place
Once the testing has been completed, it will be recorded on a tag that is attached to the fire extinguisher
Tagging your fire extinguisher is vital after every inspection. Generally, a correctly utilised tag will be marked with a number that relates to the level of service the unit has received. It will record the month and the year that the service was conducted and will allow you to keep note of how frequently your fire extinguisher has been tested. This is incredibly important in commercial spaces as ensuring that your employees are safe at all times is necessary for running a successful business. Fire extinguisher tags will also tell you everything you need to know about the unit, which is helpful when needing to use it in emergencies.
At Australia Fire Protection, our inspection and testing procedures are completed according to the current Australian standards. Our staff follow a strict code of practice and are compliant with the Australian specifications for fire extinguishers. Therefore, we guarantee a professional, reliable commercial fire extinguisher service every time you need a routine inspection. For more information on our commercial fire extinguisher services, contact us today.
WHY CHOOSE US
Being equipped with the correct fire protection equipment can be the difference between defeating a fire when it first starts and not having the means to extinguish the fire when you see it. Therefore, it's important to choose a fire protection equipment company that is both professional and reliable. Australia Fire Protection has proved its position as one of Melbourne's most trustworthy and high-quality fire equipment companies in both standard and management. There is a range of reasons to choose Australia Fire Protection for your next commercial fire extinguisher service, including:
We endeavour to build strong relationships with our clients
We can fully manage, service, and maintain your fire extinguisher or other fire-related equipment
A range of passive and active fire protection services
We specialise in design, installation, and servicing
Your one-stop fire safety company
A team of professional, qualified technicians
Entirely dedicated to customer service and the maintenance of your equipment
Efficient and friendly specialists
For the best fire equipment and services, choose our team at Australia Fire Protection. With years of experience in the industry, we understand what it takes to maintain commercial properties' safe fire practices. For more information on why you should team up with us, 
contact us
 today.
OUR FIRE PROTECTION SERVICES
At Australia Fire Protection, we offer a range of services in addition to our commercial fire extinguishers. Some of these services include a fire hydrant flow test and creating a fire evacuation plan diagram for your workplace. An evacuation diagram is vital in any commercial property as it provides you and your employees with assistance when you need to evacuate a large building in case of a fire. Our evacuation diagrams contain all necessary information including the layout of the building, the fire equipment's location, emergency exits, assembly areas, and the best routes to get there. Ensure your employees are always safe when you team up with us at Australia Fire Protection. Having no fire-ready plan is the most dangerous thing you can do, and therefore, it's important to gain assistance from a team of fire protection experts.
FAQS
What Is Commercial Fire Extinguisher and Its Types?
Many commercial fire extinguishers are available to choose from; the type of fire extinguisher you choose will depend on the kind of fire. The five primary fire extinguishers are — Water, Foam CO2, Dry powder, and wet chemical. To meet the legal requirements, it is vital to have the correct type of fire extinguisher for your property, depending on the fire risk. Having the right size of fire extinguisher is another crucial decision you need to make while buying a commercial fire extinguisher.
Does A Commercial Fire Extinguisher Need Inspection?
It is essential to inspect all commercial fire extinguisher for their functionality at regular intervals to avoid failure during an emergency. Fire extinguisher inspection will include checking for cracks in the cylinder lining, corrosion, and assessing the functionality of the cylinder. A professional fire protection service provider like Australia Fire Protection (AFP) has an exhaustive checklist to ensure even the minute points does not get ignored.
What Is Dry Chemical Extinguisher?
One of the commonly used fire extinguishers is a dry chemical fire extinguisher, widely known as DCP, BE or ABE fire extinguisher. The fire extinguisher controls the fire by attempting to remove one of the elements that are feeding the fire. ABE extinguishers work on class A, B and E fires, while BE extinguishers work on class B and E fires. The benefits include quick knockdown of fire, non-conductor of electricity, works well on fuel fires, it creates no thermal shock and has a wide range of use.
What Is Commercial Fire Extinguisher Testing?
Commercial fire extinguisher testing entails inspecting the fire extinguisher to ascertain its functionality at the time of crises. It is required to test the extinguisher at least once in 6 months to safeguard against emergencies as a professional AFP does pressure test and refill regularly. The testing is done after 1,3 and 5 years of usage. Once testing is done, a tag will be showing the testing date, and the level of service will be attached to the extinguisher. A tag has detailed information about the fire extinguisher.
Contact Us Today
Our team at Australia Fire Protection are experts in everything fire safety-related. When it comes to protecting your commercial space, our fire extinguishers and regular inspection services ensure that your space is forever safeguarded from any potential fire risks. For more information on commercial fire extinguishers or any of our other services, contact us today or call us on 1300 475 715.