Australia Fire Protection (AFP) supplies quality fire hose reels in Melbourne CBD and all the other major suburbs in Melbourne. In addition, we offer: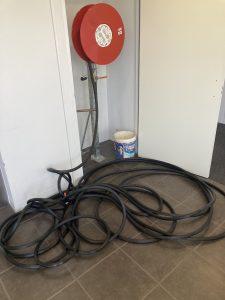 Fire Hose Reels
Fire Hose Reel Parts & Accessories
Fire Hose Reels Nozzles
Extinguisher Cabinets
Hose Reel Cabinets
Hydrant Cabinets
Marine and Offshore Cabinets & Accessories
Lay Flat Fire Fighting Hoses And Accessories
Hose Reels are certainly the most common and perhaps the least understood and most abused piece of firefighting equipment that is installed in most commercial and domestic establishments. Although a fire hose reel can be installed on any wall, a water supply outlet to attach the water pipe is needed at the point of installation.
Some of the establishments where Australia Fire Protection supplies fire hose reel to
Factories
Shopping Centres
Schools
High Rise Buildings
Hospitals
Offices and
Sporting Venues
An Australia Fire Protection representative will visit your place, inspect it, and install the fire hose reel on a suitable wall. AFP supplies fire hose reels with a steel wall bracket, hose guide, and 'on/ off' tap and pipe. The system starts working as soon as connected to a water outlet.
We strictly adhere to section 9 of AS1851 and accordingly inspect the reels biannually. That is, fire hose reel systems are inspected and tested in accordance with AS1851 section 9 on a six (6) monthly basis. AFP is a registered supplier of fire safety equipment. All the items supplied by us are manufactured in compliance with AS/NZS 1221 standards.
Why Australia Fire Protection?
Design
Installation
Commissioning
Service and Maintenance
Fixed Fire Fighting & Detection Systems
Supply and Service of Portable Fire Appliances
Supply maintain and service firehose real
Call us on 
1300 475 715
 for your economical quote from Australia Fire Protection.